Pastor Alex Awad is a retired missionary to the Holy Land. In this April 21, 2022 discussion, he reflects on current conditions in Palestine.
United Methodists In Palestine Webnar January 12, 2023
Churches for Middle East Peace (CMEP) Condemns Escalating Violence in Jerusalem
and West Bank and calls on US Government to Engage  January 28, 2023
Churches for Middle East Peace (CMEP) condemns the violence and attacks being reported over the last two days in Israel and the occupied Palestinian territories (oPt). We grieve the loss of both Israeli and Palestinian lives and call on the US government to do everything possible to bring an end to the violence. Unless the core causes of the conflict are addressed, violent acts perpetrated by both sides will continue.
On Thursday, January 26, the Israeli military conducted a raid in Jenin which resulted in the deaths of at least nine Palestinians. According to the New York Times, the raid "was aimed at apprehending members of an Islamic Jihad group" who had planned attacks against Israelis. The Palestinian Authority has called the killings a massacre and has threatened to cut off security coordination with Israel. One of the Palestinians killed was a 61-year-old woman. Another Palestinian, Jawad Bouaqneh, was shot and killed as he attempted to give first aid to one of the alleged militants. These deaths have brought the Palestinian death toll at the hands of the Israeli military in January to 30 people, including at least five under the age of 18 years old. This all comes after 2022 was the most violent year against Palestinians since 2008.
On Friday, January 27, a Palestinian gunman opened fire and killed seven Israelis who were observing Shabbat near an East Jerusalem synagogue. Of those killed, there were five men and two women, making this one of the deadliest attacks on Israelis in years. The gunman was shot and killed by Israeli police. The Israelis responded and arrested 42 people in "connection with the deadly shooting."
In addition to these incidents, escalation between Israel and Gaza included rocket fire from Gaza and airstrikes from Israel. As of the evening of January 28, no deaths had been reported.
On Monday, January 30, U.S. Secretary of State Antony Blinken is scheduled to have meetings in Israel. Churches for Middle East Peace (CMEP) condemns the recent violence and expects the U.S. government to start addressing ongoing core contributions to this conflict, including, but not limited to, the decades-long occupation of the Palestinian people in East Jerusalem, the West Bank, and Gaza. The U.S. cannot afford only to respond when violence occurs but instead must call on Israel to stop their policies that limit the human rights and dignity of Palestinian people within their borders and in the oPt. The US government must also acknowledge the exponentially disproportionate power dynamics between Israeli state violence and Palestinian resistance.
CMEP's executive director Rev. Dr. Mae Elise Cannon, says, "I am absolutely horrified by the news of these most recent tragic events. I cannot imagine what the families of those who've lost loved ones must be going through. May these events be a wake-up call to the Biden Administration. I hope the U.S. government stops ignoring what's happening in Israel and the occupied Palestinian territories. The U.S. can no longer keep its head in the sand and remain disengaged from this conflict. Violence will only continue until the core causes of the conflict are addressed."
CMEP calls on the Biden Administration to not just respond with words but to lead in efforts of de-escalation. The Middle East will not stay silent until human rights abuses and other oppressive policies are addressed, including, but not limited to:
The decades-long occupation of Palestinians living in East Jerusalem, the West Bank, and Gaza.
The continued annexation of Palestinian land and the ongoing expansion of settlements on land designated to become the future state of Palestine.
The more than 16-year blockade of more than two million people living in Gaza.
Collective punishment targeting associates and family members of individuals accused of attacks against Israelis.
The discriminatory treatment and repressive laws toward Palestinian citizens of Israel and Palestinians living in the oPt.
The U.S. has a responsibility to engage because of our extensive investment in Israel, including the billions of dollars invested in military support and foreign aid. The Biden Administration should also press the Palestinian Authority (PA) to take responsibility, engage in legitimate human rights cooperation and protection, and condemn the recent attacks on Israelis. If the Biden Administration does not take action in response to recent and ongoing violence, including Israeli state violence against Palestinians, they will be de facto offering their blessing to continued escalations.
Churches for Middle East Peace (CMEP) will continue our efforts to educate American Christians and others about these realities and to advocate for a just and durable resolution to the Israeli-Palestinian crisis in which Israelis and Palestinians might realize the vision of a just peace, which advances security and self-determination for all Israelis and Palestinians.
"The US diplomatic mission to the Palestinians in Jerusalem has been redesignated and will report directly to Washington 'on substantive matters', indicating an upgrade in ties before a planned visit by the US president, Joe Biden. What had been called the Palestinian Affairs Unit (PAU) was renamed the US Office of Palestinian Affairs (OPA) under the move. Before becoming the PAU, it had been the US consulate in Jerusalem and a focus of Palestinian statehood goals in the city. Biden's predecessor, Donald Trump, outraged Palestinians – and delighted many Israelis – by formally closing the consulate and redesignating it as the PAU within the US embassy that was moved to Jerusalem from Tel Aviv in 2018."
Top court backs earlier district court ruling rejecting retrial bid. Patriarchate vows to continue supporting Palestinian tenants who face potential eviction
Churches for Middle East Peace (CMEP) Condemns the Killing of Shireen Abu Akleh and Calls on US Government to Investigate Murder of the Palestinian-American Journalist
On Wednesday, May 11, 2022 Shireen Abu Akleh, a high-profile Palestinian-American journalist, was shot and killed while covering a raid conducted by the Israeli Defense Forces (IDF) in the West Bank city of Jenin. Abu Akleh was wearing protective gear prominently marked with the English word "PRESS" when she was shot. Ali Samoudi, another journalist with Abu Akleh, was shot in the back during the same attack. Samoudi said the group of journalists Abu Akleh worked with that day had made Israeli forces aware they were present to cover the incursion. He also stated that in the attack, one bullet missed, the next one struck him in the back, and the next shot hit Abu Akleh. She was taken to the hospital soon thereafter and pronounced dead.
Experts laud US recognition of Jordanian responsibility for Temple Mount
Jerusalem Post
"US President Joe Biden told Jordan's King Abdullah that his administration supports Jordanian custodianship over Islamic holy places in Jerusalem'The President affirmed his strong support for a two-state solution to the Israeli-Palestinian conflict and cited the need to preserve the historic status quo at the Haram al-Sharif/Temple Mount. The president also recognized the Hashemite Kingdom of Jordan's crucial role as the custodian of Muslim holy places in Jerusalem," according to a readout of Friday's (May 13) meeting between the two leaders in Washington issued by the White House."
Israeli government and court at odds over Jewish prayer at flashpoint shrine
Reuters
"Israel reaffirmed on Sunday (May 22) a long-standing arrangement with Muslim authorities that prevents Jewish prayer at a contested Jerusalem holy site, pushing back against a lower Israeli court that questioned the legality of police action against violators. Al Aqsa mosque compound, which Jews revere as a vestige of their two ancient temples, is a flashpoint of Israeli-Palestinian tensions. Under the decades-old 'status quo', Israel allows Jews to visit only if they refrain from religious rites."
Recently, several human rights groups in Palestine have been designated as Terrorist Organizations. Meanwhile, there is little evidence to proved this is true. Israel hasn't given us evidence linking NGOs to terror, Irish FM says
J-Post
"Israel hasn't shown Ireland or the European Union credible evidence to prove that there is substance behind its decision last week to designate six Palestinian nongovernmental groups as terror entities, Irish Foreign Minister Simon Coveney told The Jerusalem Post on Tuesday (November 2). 'We have asked for, as has the EU, the evidence basis for designating those NGOs,' he explained as he sat with the paper in the Inbal Hotel, just before heading to meet with President Isaac Herzog. But 'we have not gotten any credible evidence to link the NGOs to terrorism, certainly not that I have seen,' said Coveney who has also served as his country's defense minister since 2020."
October 23, 2021 Israel moves to ban six Palestinian rights groups it accuses of terrorism, prompting international outrage
Washington Post
"Israel designated six leading Palestinian rights organizations as terrorist groups on Friday, in the latest blow to activists who say space for dissent in the occupied territories has steadily shrunk amid intimidation by Israeli and Palestinian authorities alike. The announcement was swiftly condemned by watchdogs in Israel and internationally, who say the designations are unsubstantiated and are attempts to muzzle prominent critics of the Israeli government."
"The US on Tuesday (October 26) gave what appeared to be its harshest public critique of Israeli plans to expand settlements in the West Bank since US President Joe Biden took office. 'We are deeply concerned about the Israeli government's plan to advance thousands of settlement units on Wednesday, many of them deep in the West Bank,' State Department spokesman Ned Price said at a press briefing, four days after Israeli authorities published the agenda for an upcoming meeting of the Defense Ministry body that authorizes settlement building. 'We strongly oppose the expansion of settlements, which is completely inconsistent with efforts to lower tensions and restore calm. And it damages the prospects for a two-state solution.'"
Reuters
"Israel moved forward on Wednesday (October 27) with plans to build some 3,000 homes for Jewish settlers in the occupied West Bank, projects that have drawn strong criticism from its U.S. ally. An Israeli defense official said a planning forum of Israel's liaison office with the Palestinians gave preliminary approval for plans to build 1,344 housing units and its final go-ahead for projects to construct 1,800 homes. The United States had already voiced strong opposition to the plans to advance the settlement units in the West Bank, saying such moves would damage prospects of a two-state solution to the Israeli-Palestinian conflict.
October 2021 Tent of Nations
Daoud Nassar's farm is located six miles southwest of Bethlehem, in what is referred to as Area C. It has been a family farm for more than 100 years. The peace project Tent of Nations is located on the 100-acre farm; it is a center where internationals visit and local empowerment programs for women and girls are run. The family registered the property during the Ottoman period and again during the British Mandate; they updated their land documents in a Bethlehem court in 1987 and 2000.
In light of the family's obvious care to ensure that their documentation is up-to-date, it is hard to believe that since 1991, the farm has been at risk of confiscation and demolition. The Israeli government demands that the family re-register the property, and the family has tried to do so since 2006, but the process gets stalled and they are told they must start all over again. Link to Story.
General Mills/Pillsbury Boycott
In the Spring of 2022 General Mills divested it holdings in the plant in East Jerusalem which was the source of the Boycott.
News From the Tent of Nations – September 2020
(Note: The organic farm on which the Tent of Nations project runs is known as 'Daher's Vineyard'. This land, which stretches 100 acres, is owned by the Nassar family and is situated 9km southwest of Bethlehem. The family has been fighting a legal battle to keep hold of the land since it was classified as 'Israeli State Land' and thus threatened with confiscation in 1991. Their quest for justice has been an ongoing battle for the past thirty years. The following is a recent letter written by Daoud Nassar recounting their more recent troubles. More information about the Tent of Nations can be found here: Tent of Nations )
"While we are dealing with all the challenges we have with the Israeli Authorities, especially after the settlers of Neve Daniel appealed to the Supreme Court to stop us from the re-registration process, claiming the land is a State Land and we are not allowed to re-register it as a private property, 3 people from the village of Nahalin came on August 28, early morning and brought a tractor and started cultivating our land, claiming the land belongs to them. We immediately called the police and filed a report."
Some days later, On September 3, Amal and Jihan were picking grapes in the new vineyard. They were confronted by 20 to 30 young people with sticks who had torn down the fence in the new vineyard and were threatening to do destruction to the vineyard cave. Jihan managed to call Tony Nassar in Bethlehem who called the police.
On September 4, they came onto the land during the night and wreaked havoc on the vineyard cave. They tore out the heavily fortified door to the cave, broke windows, emptied cabinets and threw contents on the floor, plus other destructive acts. On the outside of the cave, they destroyed the small solar panels and the batteries, and they stole the generator, both of which provided electricity for the cave. They also destroyed the security camera and stole the recorded tape from that camera. Tools left in the vineyard were also stolen. The mess they left behind totaled almost $30,000 in damages. The only good thing coming out of this was that no family members were present there that night. We are still trying to figure out who is behind this attack, what is the motive and why it is being done now and if all are connected together.
We responded legally, the process is too slow, we need the people who did that to be brought to court soon, in the meanwhile we need protection but who is going to do that?
Please keep us in your thoughts and prayers.
Blessings and salaam,
Daoud"
A Letter from Bethlehem
The following is an open letters to the world's Christians appealing for help from the Christian community, in the birth place of Jesus. No one can possibly understand the situation in the Holy Land as much as those who live there.
Open Letter to the Christian Community from Clergy in Bethlehem in the West Bank of Palestine – July 7, 2020
Act with justice and righteousness, and deliver from the hand of the oppressor anyone who has been robbed (Jeremiah 22:3)
We are writing this letter in our capacity as spiritual leaders of various Christian
communities in the Bethlehem Area. The Israeli Government is planning to annex more occupied Palestinian land. According to the information they have released, this process could begin on July 1st. For Palestine, Bethlehem and particularly for its Christian population, this new process of annexation will be particularly catastrophic.
Soon after the occupation of 1967 Israel annexed over 20,000 dunums of land in the northern parts of Bethlehem, Beit Jala and Beit Sahour, for the construction of illegal colonial settlements. This severely hindered our capacity to grow as communities. They have already annexed one of the most important Christian religious sites of Bethlehem, the Mar Elias Monastery, and separated Bethlehem from Jerusalem for the first time in the two-thousand years of Christian history in Holy Land.
One of the only areas left for our expansion, as well as for agriculture and simply for families to enjoy nature, are the valleys of Cremisan and Makhrour, both located to the west of our urban areas and are under the current threat of annexation by Israeli authorities. This will affect the private property of hundreds of our parishioners. In the Cremisan Valley we also conduct spiritual activities. There is a school run by Salesian Nuns in addition to a historic monastery. The western Bethlehem countryside is also in danger, where some of our parishioners have been farming for generations, and this includes the Tent of Nations in Nahhalin. At the same time, and in accordance to the
original maps of the US Plan, there are threats against the eastern part of Bethlehem, including the Ush Ughrab area of Beit Sahour, where there has been plans for years to build a children hospital to serve the local community.
Our biggest concern is that the annexation of those areas will push more people to emigrate. Bethlehem, surrounded by walls and settlements, already feels like an open prison. Annexation means the prison becomes even smaller, with no hopes for a better future.
This is land theft! We are talking about land that is largely privately owned and that our families have owned, inherited and farmed for hundreds of years.
Most of our parishioners have lost hope in earthly powers. They feel hopeless and helpless, evident in the words a parishioner this month as he watched his land devoured by Israeli bulldozers preparing the way for more wall expansion: "It is devastating. You see bulldozers destroying your land and you can do nothing. No one is stopping them."
Our parishioners no longer believe that anyone will stand courageously for justice and peace and stop this tremendous injustice that is taking place in front of your eyes. The human rights of Palestinians have been violated for decades. Hope is a pillar of our faith, yet is being challenged due to the actions of those who claim to care about the Christians in the Middle East. In practice, annexation could be the final straw when it comes to a viable Christian presence in Palestine, as well as the national aspirations to live in freedom, independence, dignity and equality in our homeland in accordance with
international law.
Nobody can claim that they did not know the consequences of annexation for Palestine in general and Bethlehem in particular. We feel the burden of history upon our shoulders to keep the Christian presence in the land where it all started. As we continue to put our hope and trust in God, we call upon the leaders of this world to stop this severe injustice. We remain committed to peace with justice, and find strength in the support of many around the world, specially the support of many churches. We hope that the world takes decisive and concrete actions to stop this injustice and provide the conditions to restore hope for a future of justice and peace that this land deserves.
Fr. Yacoub Abu Sada – 'The Theotokos' Melkite Church Bethlehem
Fr. Issa Musleh – Forefathers Greek Orthodox Church Beit Sahour
Fr. Hanna Salem – Catholic Church of the Annunciation Beit Jala
Fr. Bolous Al Alam – St. Mary Greek Orthodox Church Beit Jala
Rev. Ashraf Tannous – The Evangelical Lutheran Church of the Reformation Beit Jala
Fr. Suheil Fakhouri – Our Lady of the Shepherds Melkite Church Beit Sahour
Rev. Munther Isaac – The Evangelical Lutheran Christmas Church Bethlehem and The
Evangelical Lutheran Church Beit Sahour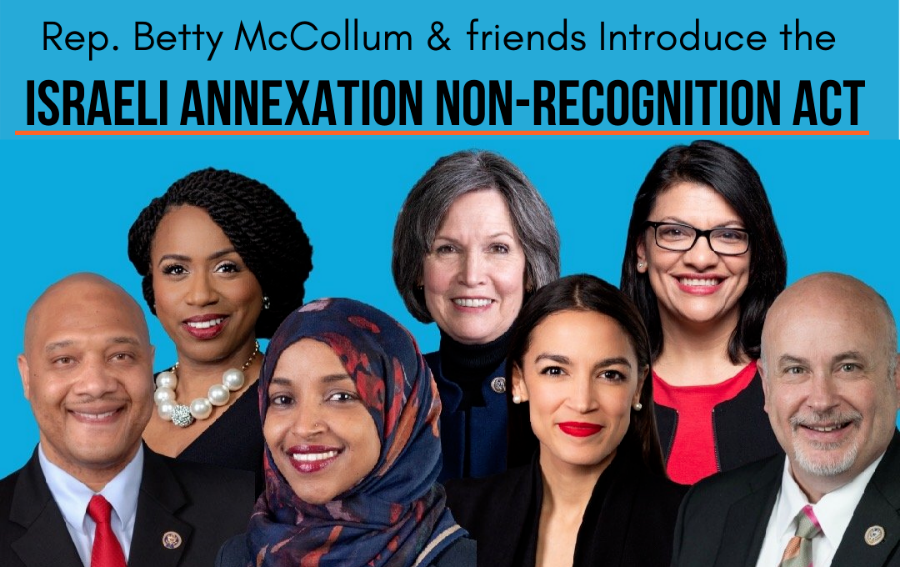 Rep. Betty McCollum and co-sponsors have introduced another historic bill in the U.S. Congress, The Israeli Annexation Non-Recognition Act, H.R. 8050.
This bill will prohibit the United States government from recognizing Israeli claims of sovereignty over any part of the occupied West Bank, including East Jerusalem.
It also puts the issue of U.S. funding for unlawful Israeli actions squarely on the table for political debate in Congress.
This bill is a vital step toward divesting from Israeli militarism and the ethnic cleansing of Palestinian land.
H.R. 8050 had early endorsement from 37 organizations, including The United Methodist Church-General Board of Church and Society.
It covers the following:
➨Israel's potential annexation is a flagrant violation of international law and a prohibited act of aggression under Article 2(4) of the UN Charter.
➨ The US government should support and promote equality, human rights, and dignity for both Palestinians and Israelis.
➨The US government should reject and refuse to recognize any undemocratic system or act of aggression in which Israel unilaterally exercises permanent rule over a Palestinian people denied self-determination and human rights.
➨ This bill makes US military funding to Israel conditional: it forbids the use of U.S. funding to deploy personnel, lethal materials, equipment, and more in any Palestinian areas annexed by Israel.
United Nations Relief and Works Agency for Palestine Refugees (UNRWA)
The U.S. government's decision to terminate assistance to the Palestinian people is cruel and amoral. It withholds vital humanitarian as a cynical tool of foreign policy. It is already resulting in untold harm to a vulnerable population, especially children.
The Palestinian Christian Alliance for Peace calls on people of conscious to show that Americans will not condone a policy that punishes innocent refugees to serve political purposes.
Millions of Palestinians, the largest and longest suffering refugee community in the world, rely on UNRWA for vital health and education services, and food assistance, vocational training, and jobs.
Since 1948, over half the Palestinian population was driven out of their hometowns and villages that fell under the control of the newly created State of Israel. Despite international consensus, enshrined in multiple United Nations resolutions, the Palestinian refugees were not allowed to return to their homes.
To respond to their plight, in 1950 the United Nations Relief and Works
Agency for Palestine Refugees (UNRWA) was created.
When the Agency began operations, it served a population of 750,000 refugees– Palestinian Muslims and Christians. Today, that number has increased to more than 5 million.
Until 2018, the U.S. was the largest donor to UNRWA. But as of 2018, in an unexpected move, the US government cut its funding to UNRWA and other humanitarian programming for Palestinians in the Holy Land. The cut of 30% of UNRWA's annual budget has created a massive funding crisis and threatens the rights and dignity of millions of refugees.
American Christians have the opportunity to support Palestinians in the Holy Land via UNRWA USA, a 501c3 tax-exempt nonprofit that supports the work of UNRWA through fundraising, education, and advocacy in the United States.
US church organizations that help provide vital educational and health services for the neediest Palestinians also face the threat of shut-down of the facilities they support. These include the Augusta Victoria Hospital in Jerusalem and the Ahli Hospital in Gaza, both providing specialized care that is not available elsewhere for Palestinians in their respective communities.
UNRWA's work is widely recognized as an important source of stability in a very volatile region and remains essential to ensure sustainable and effective support for refugees stripped of their rights to return to their hometowns and villages.
Additional stress on Palestinian society threatens to wipe out the already dwindling Palestinian Christian community, the oldest Christian community in the world.
The Palestinian Christian Alliance for Peace, PCAP, is a nonsectarian, ecumenical alliance of Palestinian American Christians that seeks to provide a clear voice and presence in faith-based communities in the US. See their statement below>
"We believe that achieving peace requires ensuring justice and human rights for the Palestinians. American churches, church bodies, and church-based organizations can and ought to play a leading role in advocating for a just peace among all people in the region."
Visit Palestinian Christian Alliance for Peace at : www.pcap-us.org and https://www.facebook.com/PCAPeace/
PCAP greatly welcomes opportunities to visit your church or faith community to present a Christian perspective on issues of peace and justice in the Holy Land. Call them at (703) 593-7982
More about UNRWA
UNRWA teaches more than 526,000 refugee children in the largest and one of the highest achieving public school systems in the Middle East.
UNRWA operates 143 primary health facilities, with nearly 9 million annual patient visits.
UNRWA provides food assistance to more than 1 million refugees.
UNRWA empowers 7,500 men and women each year at 8 vocational and technical training centers.
UNRWA has awarded over $493.7 million in microfinance loans to Palestine refugees.

Washington, D.C. – May 2, 2019
Media Contact:
Katie McRoberts
katie@cmep.org
202-543-1222
Churches for Middle East Peace (CMEP) Strongly Endorses Rep. Betty McCollum's "Promoting Human Rights for Palestinian Children Living under Israeli Occupation Act"
On Wednesday, Rep. Betty McCollum introduced H.R. 2407, "The Promoting Human Rights for Palestinian Children Living under Israeli Occupation Act." Churches for Middle East Peace (CMEP) strongly endorses this legislation as a proactive step toward safeguarding the lives of vulnerable children caught in the middle of the Palestinian-Israeli conflict.
H.R. 2407 offers protection not only to Palestinian children, but to children worldwide, by amending the Leahy Law to prohibit any US foreign aid dollars from contributing to "the military detention, interrogation, abuse, or ill-treatment of children in violation of international humanitarian law." It also authorizes the appropriation of $19 million annually to fund NGOs that monitor human rights in Israel/Palestine and to fund organizations that provide physical and mental health support to Palestinian children who have been subject to military detention, abuse, or torture.
"Israel's system of military juvenile detention is state-sponsored child abuse designed to intimidate and terrorize Palestinian children and their families," Congresswoman McCollum said. "It must be condemned, but it is equally outrageous that US tax dollars in the form of military aid to Israel are permitted to sustain what is clearly a gross human rights violation against children."
Kyle Cristofalo, CMEP's Director of Advocacy and Government Relations, said "Churches for Middle East Peace (CMEP) is grateful to Rep. Betty McCollum for her ongoing commitment to the rights of Palestinian children. We wholeheartedly support her legislation. For there to be any hope for a just and lasting end to the conflict in Israel/Palestine, all children, including Palestinians, must live without fear of military detention. Congress has a responsibility to ensure US policy reflects values that prioritize concern for the most vulnerable. We call on Rep. McCollum's congressional colleagues to cosponsor this critical legislation."
Rep. McCollum introduced a similar version of this bill in the 115th Congress, the "Promoting Human Rights by Ending Israeli Military Detention of Palestinian Children Act," which was cosponsored by 30 of her colleagues.
Formed in 1984, Churches for Middle East Peace (CMEP) is a coalition of 29 national church communions and organizations, including Catholic, Orthodox, Protestant, and Evangelical traditions that works to encourage US policies that actively promote a comprehensive resolution to conflicts in the Middle East with a focus on the Israeli-Palestinian Conflict. CMEP works to mobilize US Christians to embrace a holistic perspective and to be advocates of equality, human rights, security, and justice for Israelis, Palestinians, and all people of the Middle East.
WCC, ACT Alliance and MECC statement on Gaza
WCC, ACT Alliance and MECC statement on Gaza
With deep concern over the latest hostilities in the Gaza Strip, the World Council of Churches (WCC), the Middle East Council of Churches (MECC) and ACT Alliance express their belief that the present situation in the Gaza Strip is morally and ethically untenable. We offer our heartfelt sympathies to all the victims, killed and injured and their families, of the recent intense spate of violence.
All parties to the conflict must face up to their responsibilities and their moral and legal accountability. It is imperative that they seek ways to protect the civilian population, especially women and children from recurring military confrontations that can only exacerbate an already tense situation and ongoing humanitarian crisis. It is particularly incumbent on those with the most powerful and destructive means at their disposal to exercise the highest responsibility for avoiding further catastrophes for the suffering people of Gaza
The General Conference of the United Methodist Church has urged all United Methodists to read about the suffering of Israelis and Palestinians and nonviolent ways of ending the conflict by reading the "Kairos Palestine Document according to Resolution #6111 of the 2012 Book of Resolutions. One source of this document can be found at the Palestine/Israel Justice Project site pijp.org/study-guide/ The study guide shown there is based on the Kairos Palestine Document and can be used as a small group study. Contact Gail Chalbi at gchalbi1146@q.com for more information.
WCC, ACT Alliance and MECC statement on Gaza
WCC, ACT Alliance and MECC statement on Gaza
With deep concern over the latest hostilities in the Gaza Strip, the World Council of Churches (WCC), the Middle East Council of Churches (MECC) and ACT Alliance express their belief that the present situation in the Gaza Strip is morally and ethically untenable. We offer our heartfelt sympathies to all the victims, killed and injured and their families, of the recent intense spate of violence.
All parties to the conflict must face up to their responsibilities and their moral and legal accountability. It is imperative that they seek ways to protect the civilian population, especially women and children from recurring military confrontations that can only exacerbate an already tense situation and ongoing humanitarian crisis. It is particularly incumbent on those with the most powerful and destructive means at their disposal to exercise the highest responsibility for avoiding further catastrophes for the suffering people of Gaza Read more
Blessed are the peacemakers, but what about the troublemakers?
Rev. Dr. Mae Elise Cannon
May 14 marks one year since the U.S. Embassy moved from Tel Aviv to Jerusalem, five months after President Trump announced the move December 6. What has the U.S. done about peace since then?
President Trump said that since he thought the Embassy move to Jerusalem was good for Israelis, he would next do something good for Palestinians. It is a bit hard to understand his definition of good for the Palestinians. Since the move, his actions have been more about troublemaking than peacemaking. He has:
Trump's still-murky Israeli-Palestinian peace plan already meeting stiff opposition
The LA Times
"After numerous false starts, the Trump administration is finally preparing to unveil its long-promised Mideast peace plan in coming weeks, and initial indications suggest it is aimed at pleasing Israel while offering financial incentives to the Palestinians but no pathway to statehood, their primary demand."