Resources on Israel/Palestine for Education and Advocacy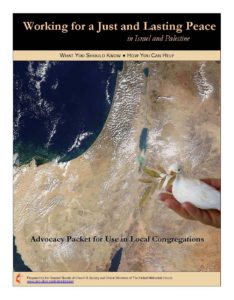 Two Resources for Congregational Study:
Working for a Just and Lasting Peace in Israel/Palestine is a newly updated and excellent study resource from the United Methodist General Boards of Church and Society and Global Ministries.  Click on the title to download it free!
Zionism Unsettled: A Congregational Study Guide , has just been published by the Israel Palestine Mission Network of the Presbyterian Church (USA) . This Study Guide is a condensed and edited version of a longer book entitled Zionism and the Quest for Justice in the Holy Land which will be published in 2014 by Pickwick Publications, an imprint of Wipf and Stock Publishers.  Click on title to order.
Looking for more resources for responsible travel in the Holy Land? Check out "Come and See: A Call from Palestinian Christians."
Finally – an important new video resource: a new DVD on Christians in Palestine includes the story of Abuna Elias Chacour and his native village of Biram.  "The Stones Cry Out: The Story of the Palestinian Christians"  was released in fall 2013. See video trailer below:
Director Yasmine Perni's debut documentary covers the Palestinian Christian experience of dispossession in 1948 and the destructive effects on the remaining Christian communities during the last 60 years of occupation.
Featuring interviews with Mitri Raheb, Archbishop Elias Chacour, Gabi Baramki, Hanan Ashwari and many others,Stones is an important introduction to the plight of Christians living under siege. Order your own copy of the DVD from Middleeastbooks.com.
Books Available
Alex Awad's book " Palestinian Memories" (Hardcover, 387 pages) is available from Dwight Haberman, close friend of Alex. Dwight's wife Debra, who did some of the editing of the book, says that the section that deals with the history of the Palestinian-Israeli conflict is as good as any she has seen. The cost is $30.00 which includes postage and handling. Also available is a video resource of 7 Power point presentations prepared by Alex. The cost is $10.00
For Alex Awad's book send  $30.00 and your mailing address to:
Dwight Haberman
P.O.Box 2
Isanti, MN 55040
Links
MN Break the Bonds
On Line Video
http://topdocumentaryfilms.com/great-book-robbery/
70,000 Palestinian books were systematically "collected" by the newly born state of Israel during the 1948 war. The story of the "collected" books is at the heart of this film.
<<  Session 8  |  Resources (current)